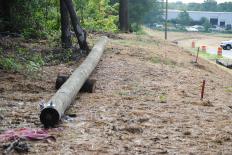 In an effort to streamline the development process and provide the quickest turnaround time, we created this web page specifically for you.  We have listed several scenarios with instructions and the required forms for your reference.
Requests for temporary or permanent power for future GreyStone Power members:
For our records, we ask that you provide a Commercial Application for Membership.  Once the application is submitted, please allow approximately 3 business days to complete the processing of the application.  After you have an active account with us we can key temporary and or permanent orders based on the criteria below.