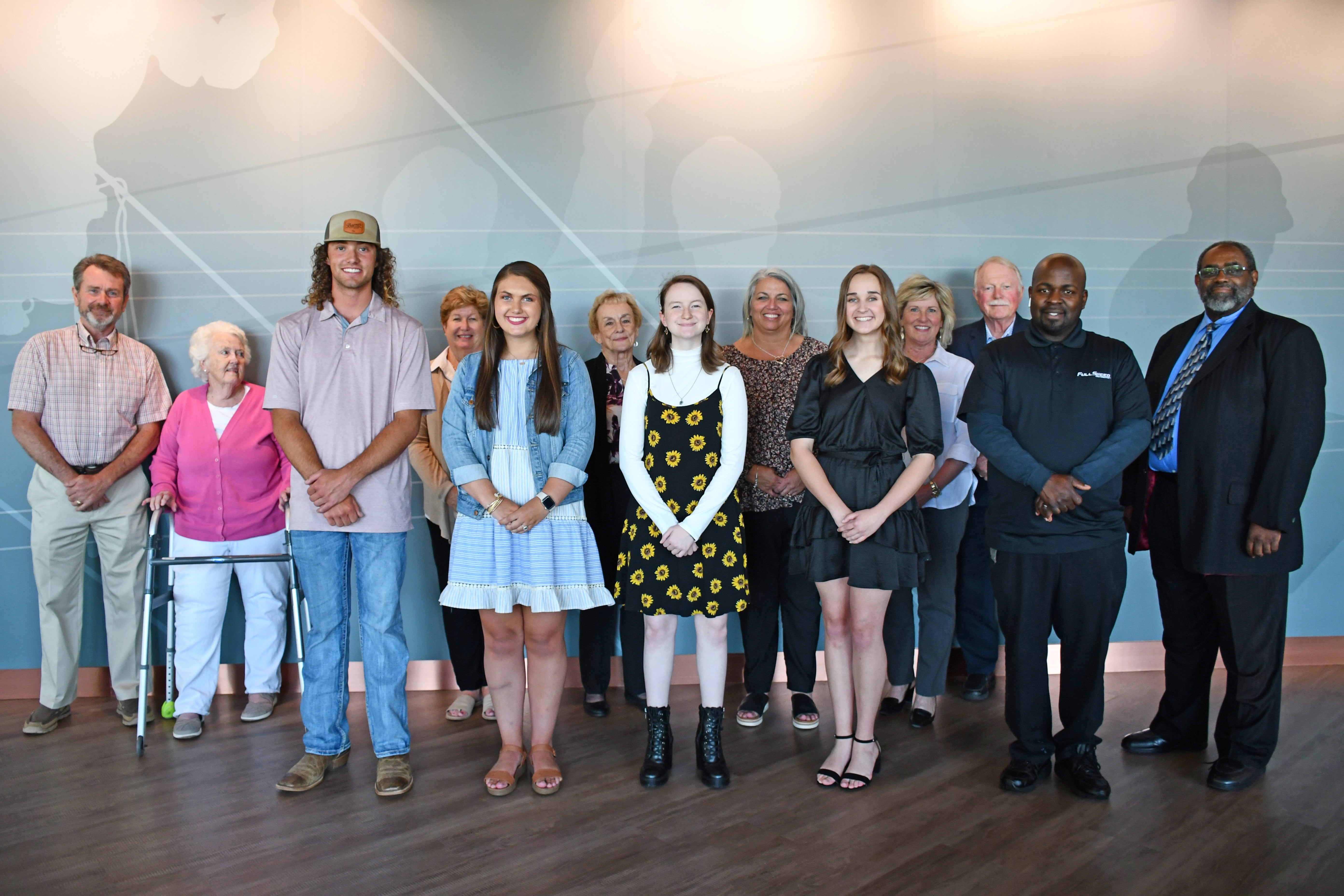 After evaluating dozens of applicants, Lucas Merritt, Raylee Johnson, Sara Tilley, Gracie Price and Landon LaRoy Hall (not pictured) were chosen as the recipients of the 2022 Foundation Scholarship, and each student was awarded $3,000. The winning students are pictured in the front row, left to right. 
Also pictured is Tim B. Clower Scholarship winner Armond Dowdell (front row, right). 
The Foundation Scholarships are given based on academic performance as well as school and community activities and are made possible by GreyStone members who agree to round up their electric bills to the next dollar. The cost per month to assist worthy students like these, as well as charitable organizations throughout the service area, cost members no more than .99 cents per month. "We are so grateful to our 27,000 members who contribute to Operation Round Up, the Foundation's fundraising program, so that we can recognize worthy students such as these, as well as help those who need help in our community," said Marcus Carter, Chairman of the Foundation board.
Some of the charitable and community organizations these students support include Douglas County District Attorney Teen Council, Crohn's and Colitis Foundation of America, The Pantry, A Gift of Love, the Wounded Warrior Project, Keep Georgia/Douglasville Beautiful, Toys for Tots, Fal-Can Food Drive, Relay for Life, Fellowship of Christian Athletes, Church Worship Band, Operation Christmas Child, Georgia Heart of the Arts, and the Superintendent's Student Advisory Council.
Five $3,000 scholarships are awarded to GreyStone Power members or their children who are either seniors in high school or enrolling in college annually. The scholarships, provided by the GreyStone Power Foundation, Inc./Operation Round Up, are awarded based on need and academic achievement. All ages are eligible. Applications are considered and winners selected by members of the GreyStone Power Foundation, Inc. Board of Directors, which disburses Operation Round Up funds contributed by GreyStone Power members by rounding up their bills every month.
This year's applications deadline is Friday, January 13, 2023. Applications are available online (see below). If you are unable to download the file, call Trisha McBee at 770.370.2273 and an application will be sent to you. Send completed applications to: GreyStone Power, Attn: Trisha McBee/PRC Dept., P.O. Box 897, Douglasville, GA 30133 or submit electronically to trisha.mcbee@greystonepower.com(link is external).
GreyStone Power Foundation, Inc. Scholarship Application (PDF)
Previous winners:
Scholarship winners in 2022: Lucas Merritt, Raylee Johnson, Sara Tilley, Gracie Price and Landon LaRoy Hall
Scholarship winners in 2021: Christina Bae, Zachary Davis, Kamari Dumas, Eric Okanume and Sammi Zhu
Scholarship winners in 2020: Axel Diaz-Arevalo, Jasmin Lucas, Jessica Hairston, Aliesha Sawyer, Madyson Lewis
Scholarship winners in 2019: Wanisha Saintil, Lysa Ortiz, Grayson Jones, Chandler Knight, Sarah Secrist
Scholarship winners in 2018: Emmanuel Eziakor, Jordan Houle, Jaden Lamar, Auburn Merritt and Jake Strickland
Scholarship winners in 2017: Madison Seagraves, Ashlyn Mahar, Delphina Djeumeni, Nathanael Martin and Anastasia Dunn
Scholarship winners in 2016: Ahmad Al-Husseini, Domonique Jones, Jade Jones, Samuel Pettit and DeErik Reed
Scholarship winners in 2015: Jessica Kim, Kathryn Davis, Joshua Eric Smith, Andrieka Austin and Jeffrey Summey 
Scholarship winners in 2014: Autumn Cole, Madeline Detraz, Courtney Knight, Karim Lakhani and Deja Stith
Scholarship winners in 2013: Joshua Barnett, Kelsey Dobbs, Jordan Gunnell, Sarah Kim and Tyler Willingham