GreyStone is committed to helping the people we serve save money and energy. From receiving an annual return on your investment through capital credits, to taking advantage of our competitive commercial and residential electric rates, energy efficiency tools, rebates, and free home energy audits, you're connected to valuable services every day. Click here to view our free energy-savings booklet. 
Gas to electric conversion rebates: Some residential members may be interested in converting gas water heaters and furnaces to electric due to rising costs of natural gas and propane. GreyStone has two rebates available for members who convert from gas to electric.
If the requirements are met, the member becomes eligible for either a $400 or $200 rebate after converting a water heater from gas to electric.
By meeting the requirements, members become eligible for either a $600 (Energy Star Rated) or $300 (Non Energy Star Rated) rebate when changing from gas heat to an electric heat pump or dual fuel.
Propane Water Heater Replaced with Electric
Rebate of $500 for water heater with 12 year or better limited warranty
Rebate of $300 for water heater with less than 12 -year limited warranty
Rebate of $500 for Marathon or Heat Pump water heater
Our "Together We Save" website helps members to use energy more wisely, saving them money and helping ensure we have the energy we need for the future. The "Save" page on GreyStone's website features valuable links and tools to help you get the most out of your energy use. The immediate savings on bills are evident. GreyStone Power also offers additional services that save members money. Take the Co-op Connections Card program, for example. GreyStone members have saved more than $2.1 million since the program began in October 2007. About 300 local businesses now offer discounts. Members also have access to exclusive vision, dental and hearing discounts.
Go Energy Financial Credit Union provides protection from high interest rates and offers low loan rates for members. We've partnered with Gas South to provide you with discounts on your natural gas bill. Not only is it free to join, but you can save an extra 2¢ per therm. And, for a low monthly fee, GreyStone partner EMC Security offers a security system monitoring and installation service for homes and businesses. Through Green Power EMC, a partnership of 38 electric cooperatives in Georgia, we're generating more electricity from renewable energy sources. Utilizing green resources helps to reduce dependence on foreign fuels and national resources, and makes a positive impact on the environment!
To learn more about GreyStone's ancillary services and other programs offered to members, visit the Value Center section of our site.
Energy Saving Tips
Summer cooling and winter heating, followed by water heating, are the major users of energy in your home. These few items will usually have the biggest impact on your energy bill.
Every degree below 78 in the summer increases your bill 3 to 5 percent. Don't set the thermostat any higher than 2 – 3 degrees when leaving as it take more energy to bring your temperature down on hot days than to keep it consistent. Also, when you leave for vacation, keep the temp around 82 degrees for maximum savings.
Our savings guide will show you how to make the most of the energy you consume each day. It is broken down into the following sections: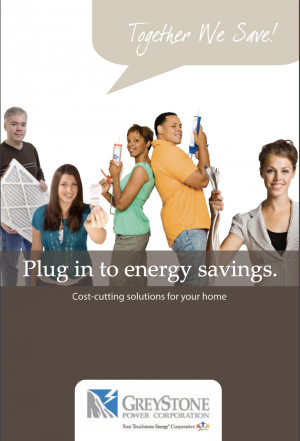 Insulation and air tightness
Heating and cooling system
Space heaters/window air conditioners
Electric water heater operating cost
Pool/Hot Tub operating costs
Electrical costs of household items and how to save energy when using them
Lighting and appliance energy-saving tips
Saving energy while on vacation
To view the booklet, click here. This is an Adobe Acrobat PDF. Should you need a copy of Acrobat software to open the file, you can download it for free from Adobe's web site.
(Booklet also available in Spanish, click here.)
This publication is available free of charge to all GreyStone members. To receive your copy, call 770.942.6576 or e-mail your request to:MemberServices@greystonepower.com
Want to learn more? For more tips on how to conserve energy at home, visit GreyStone's Energy Systems Reference Library.